Books by Beth Hillson
Buy at glutenfreeandmore.com, Amazon.com and barnesandnoble.com.
Gluten-Free Makeovers, 175 Favorite Recipes Made Deliciously Gluten Free
When Beth Hillson was diagnosed with celiac disease, she had nowhere to turn to for recipes or support. She embarked on a lifelong journey to help provide delicious and healthy food to others who cannot have wheat. In Gluten-Free Makeovers, she makes over some of the most popular recipes—from celeb chef favorites to classic comfort foods, from pot pies to pizza, fig bars to croissants—so wheat-free home cooks can have their cake and eat it too.
With chapters dedicated to the gluten-free kitchen, preparation basics, a resource guide on ingredient sources, and supplemental info on gluten-free living, Gluten-Free Makeovers offers inspiring meals for both seasoned and novice chefs alike.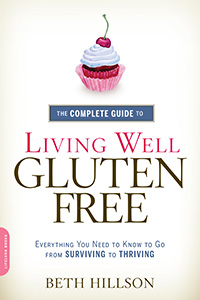 Buy at glutenfreeandmore.com, Amazon.com, barnesandnoble.com and IndieBound.com.
The Complete Guide to Living Well Gluten Free: Everything You Need to Know to go from Surviving to Thriving
Perhaps you've been diagnosed with celiac disease, gluten sensitivity, or a wheat allergy. Or maybe you feel bloated when you eat gluten and want to give the gluten-free diet a try. Whatever the reason, The Complete Guide to Living Well Gluten-Free will help you navigate your new world. President of the American Celiac Disease Alliance Beth Hillson has been living with celiac for more than thirty-five years and raised a child with it. For decades, she has answered questions on the g-f life, tackling everything from diagnosis (Which physicians and specialists are the best choices to get an accurate diagnosis?) to cooking (Is buckwheat a form of wheat?) to lifestyle (What are the most important questions to ask when dining out?). Thisis the everything-you-need-to-know guide to a healthy lifestyle. The book covers a lot of ground, including critical information about celiac disease and the gluten-free diet, shopping and cooking gluten-free, and dealing with family issues, working, socializing, dating and traveling. Beth's trusted recipes for family favorites, which range from lasagna to donut holes, and useful flour blends are deliciously simple. But the real meat lies in Beth's valuable wisdom: naming companies you can trust, ingredients you can use, practices you can follow. All with an attitude that celebrates living well, gluten-free.